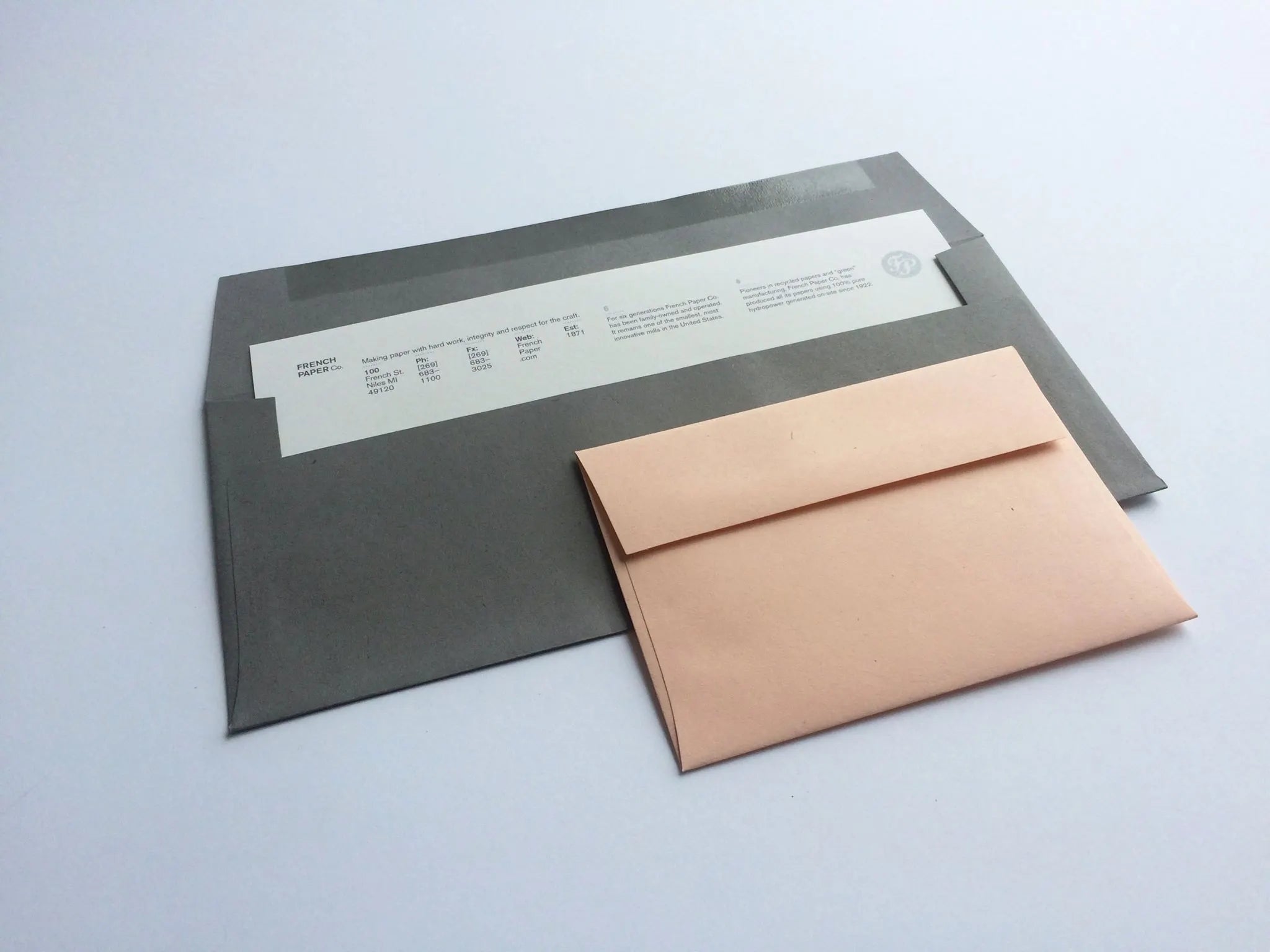 Envlope Sizes Available from French Paper
Don't forget the matching French Paper envelope!
French Paper manufactures the finest envelopes to accompany our industry-leading paper and cardstock lines.
All French Envelopes
All French envelope types are made with the primary text weight of their respective product lines and are available in a variety of sizes.
Envelope Sizes & Suggested Uses
A-1 Envelope Size: 3.625 x 5.125 inches
The smallest letter size envelope allowed for mailing, it fits well inside other A-size envelopes.
A-2 Envelope Size:4.375 x 5.75 inches
Great for 1/4 folded sheets and announcements.
A-6 Envelope Size: 4.75 x 6.5 inches
Ideal for note cards and perfect for 4" x 6" photographs.
A-7 Envelope Size: 5.25 x 7.25 inches
Perfect for wedding and event invitations that also include RSVP envelopes.
#10 Envelope Size: 4.125 x 9.5 inches
The standard business envelope size to pair perfectly with tri-folded 8.5 x 11 inch paper.
Booklet Envelope Size: 6 x 9 inches
For flat-mailing pamphlets, brochures, and stationery systems.
Square Envelope Size: 6 x 6 inches
Suitable for large wedding invitations with RSVP inserts and unique holiday cards.
Catalog Envelope Size: 9 x 12 inches
Traditional manila envelope size, perfect for mailing catalogs, reports, and stationery systems.
Envelope Flap Styles
Size

 Style

A-1

A-2

A-6

A-7

Square

Square

#10

Square wallet

Booklet

Catalog

Commercial flap