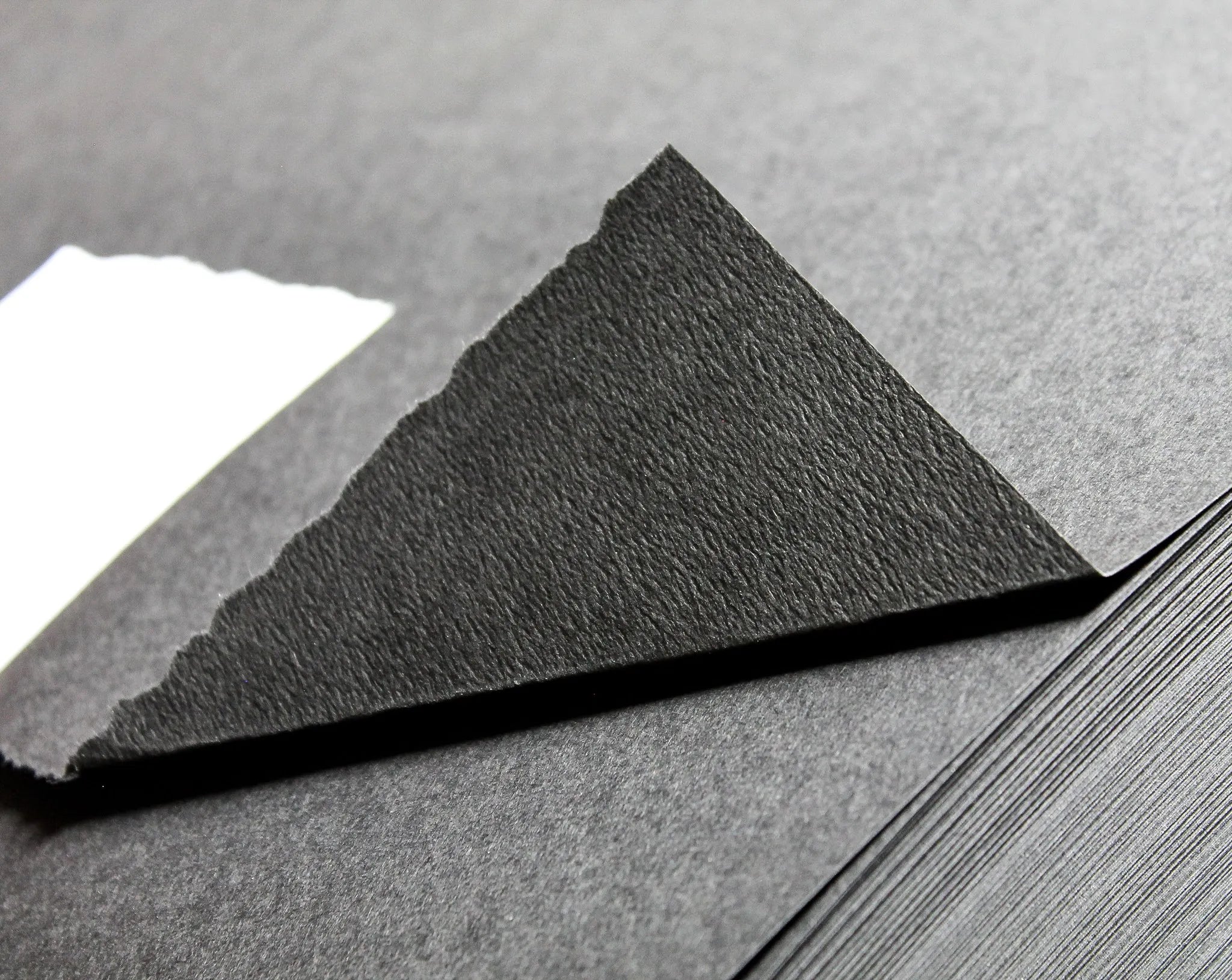 How to Choose the Perfect Paper
How Does Paper Weight Work?
What is Basis Weight?
The weights of paper, also known as its "basis weight," is used to differentiate products within grades of paper. The grades that you'll see on our site are text, cover & bond. The term "basis" is used because the weight is "based" on how much 500 sheets of a set size (determined by grade) weigh.
Weighing 500 sheets of any grade of paper in its standard basic size will determine paper basis weight. In other words, 500 sheets of 25x38" 70 lb. text paper will weigh 70 pounds.
| | |
| --- | --- |
|  Grade | Standard Basic Size |
| Bond | 17"x22" |
| Text | 25"x38" |
| Cover | 20"x26" |
| Bristol | 22.5"x28.5" |
What Is Grams Per Square Meter for Paper?
The standard basic sizes used to measure bond, text, and cover papers differ. One way to compare weights across grades is to use grams per square meter (GSM). This reduces the need to call out the grade when specifying basis weight.
How to Choose Among Different Paper Weights
Let's Start with the Function
How tough do you need it to be? These examples will give you a general idea:
Thin – printer paper weights and publishing papers.
Medium – posters and greeting cards.
Premium – quality restaurant menus and business cards.
Ultra – custom boxes and coasters.

Cover Weight vs. Text Weight
How do you know which is the right choice for your needs? To put it simply, cover-weight paper is thicker and more rigid than text-weight paper. If your task calls for a sturdy paper, choose cover weight. For everyday printing and correspondence, text-weight paper should do the trick.

| | |
| --- | --- |
|  BOND | High-quality writing paper historically used for printing bonds and legal documents. Bond papers are made to withstand handling and filing; the principal requirements are strength and durability. Bond paper may be made from cotton or wood pulp and is the primary grade used for office & school copiers. |
| BRISTOL | General term for cardstock made for stiffness, unlike cover paper, which is made to fold. Bristols are 0.006" or greater in thickness and are used for indexing, art prints and painting, postcards, covers, etc.   |
| COVER | Heavyweight, fine-quality coated and uncoated printing papers made with good folding characteristics. Cover papers are used for the covers of brochures and catalogs and also for such products as folders, brochures, cards, posters and menus. |
| TEXT | High-quality uncoated printing papers made in a wide variety of colors and textures. Text weights are primarily for the inside pages of books, brochures and catalogs. Text is usually made with a matching cover. |
| | |
| --- | --- |
|  FINISH | Paper surface characteristics, mainly imparted by mechanical means. |
| ANTIQUE FINISH | Rough or natural paper finish. Obtained by operating with reduced pressure during wet pressing and calendering. |
| CALENDERING | The process of pressing paper smooth by running it through a series of heated rollers called calenders. |
| EMBOSSED | Patterned texture imparted to paper through an embosser. Common embossed patterns simulate burlap, felt, linen and leather |
| LINEN | Finish resembling linen fabric. It is obtained by off-machine embossing a continuous web with an engraved steel roll. |
| MATTE | A coated finish with good smoothness but devoid of gloss. |
| PARCHMENT | A marble-like, undulating surface resembling true parchment; a writing surface made from animal skins. We introduced French Parchtone in 1949 as the first 100% animal-free printable parchment paper made entirely from wood pulp. |
| SMOOTH | A uniform, uncoated paper surface that feels smooth and holds ink evenly. A paper's smoothness is measured by an air leak test called sheffield smoothness. The smoother the surface, the lower the Sheffield Smoothness value.  |
| VELLUM | Dull, toothy finish that is somewhat smoother than antique finish. |
| FELT SIDE & WIRE SIDE | The side of the paper that is in contact with the wire on the paper machine is called the wire side, as distinguished from the felt or top side. The two sides can have a slightly different finish. |
ELEMENTAL CHLORINE-FREE (ECF)

Pulp produced without using elemental chlorine for bleaching. This method significantly reduces the amount of harmful waste produced by the pulp bleaching process and prevents carcinogenic byproducts.

All French papers are produced ECF.

RECYCLED FIBER

Pulp fiber derived from recovered materials, other than mill broke, and incorporated in the fiber mix of a finished product.

POSTCONSUMER RECYCLED WASTER FIBER (PCW)

Pulp fiber that has been used by consumers (schools, offices, stores, residences) and subsequently diverted from the solid waste stream for re-use.

PRECONSUMER RECYCLED FIBER

Pulp fiber that has not met its intended end-use by a consumer and is collected for re-use in manufacturing. Preconsumer materials in papermaking include envelope clippings and trimming from the printing process. Preconsumer recycled fiber does not include mill broke.
 ACID-FREE

Paper manufactured in an alkaline environment. Acid-free paper typically has good aging characteristics and has no detrimental effect on materials that are in contact with it.

All French Paper products are acid-free and can be considered archival quality.

BRIGHTNESS

Brightness is measured as the percentage of light in a narrow spectral range reflected from the surface of a sheet of paper. It is not necessarily related to color or whiteness.

CALIPER

Thickness of a paper sheet, measured in thousandths of an inch. A micrometer is used to measure the caliper.

ELEMENTAL CHLORINE FREE (ECF)

Pulp produced without using elemental chlorine for bleaching. This method significantly reduces the amount of harmful waste produced by the pulp bleaching process and prevents carcinogenic byproducts.

All French papers are produced ECF.

GRAIN DIRECTION

Direction of predominant fiber alignment, usually the machine direction. The directionality of paper must be taken into account in measuring such paper strength properties as tear, tensile and folding endurance. Grain direction can also influence the curl of a cut sheet if it is stretched or moistened.

French grain directions are indicated by the dimensional order of the sheet size. For example, 25x38 would indicate the grain is long in the 38" direction. If the size is listed as 38x25, the grain will be long in the 25" direction.

OPACITY

Measure of the percentage of light passage through a sheet of paper. The more opaque a paper is, the less show-through there will be from printing on the sheet below.

SIZING

Treatment of paper to resist liquid penetration (ink, paint, water) using wet-end additives or surface application (starch solution).

All French papers have received a sizing surface treatment.